Creating opportunities for students, K-State's land-grant mission and the economic growth of Kansas
As seen in the K-State Alumni Association's K-Stater magazine, Spring 2022 edition
The Edge Collaboration District at K-State is where industry, research and talent come together to create meaningful outcomes for Kansas State University, Kansas and beyond.
Along the northern edge of Kansas State University's campus, is a growing community of industry partners with established offices and influence in the Edge District. These innovative companies have demonstrated a commitment to the university and realize many benefits of locating closer to student talent, collaborative research opportunities and the welcome of the K-State family.
Global industry leaders have long partnered with K-State. Add the opportunity to create a company presence in the high-tech, accessible and campus-adjacent Edge District and the future looks bright for the K-State community, industry partners and the 2.9 million Kansas residents who benefit from a well-educated workforce and economic development opportunities incubated therein.
Each industry partner located in the Edge District strengthens K-State in one of at least three important ways: by enhancing K-State's educational experience, collaborating with researchers toward industry innovation or as a technical supplier. This combination of industry engagement and co-location adjacent to K-State's main campus creates an environment where motivated people with innovative ideas can work together to change the world for good.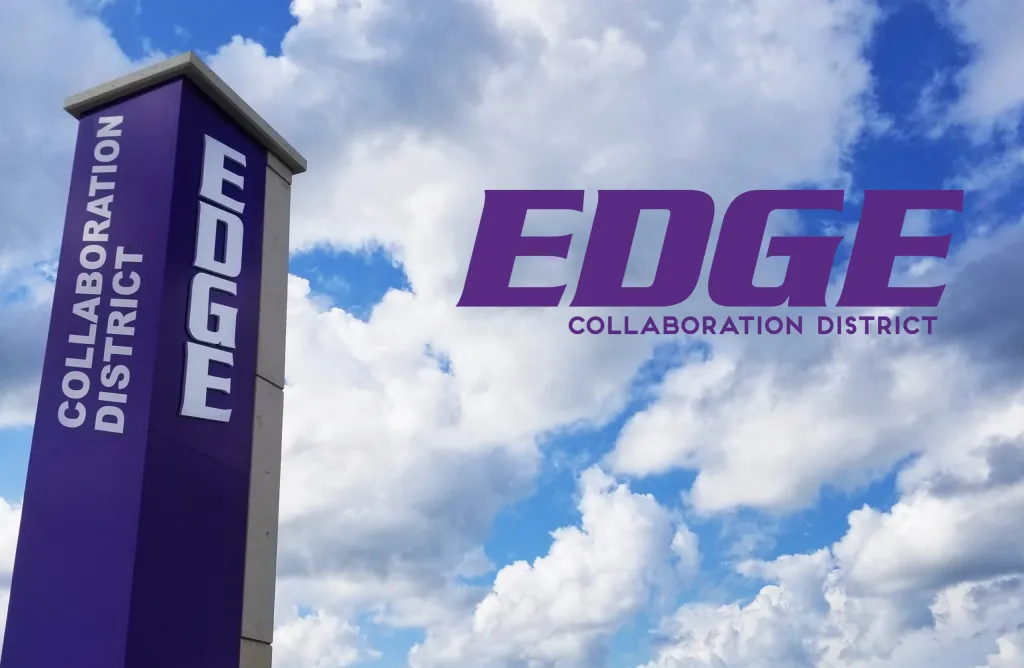 Student internships in the Edge Collaboration District
As a growing variety of companies hang shingles in the Edge District, greater opportunities arise for motivated K-State students to gain first-hand professional experience in the field, laboratory or office of their chosen future careers.
McCownGordon Construction is both a partner-tenant and builder of 1880 Kimball Avenue, phase II of the K-State Office Park within the Edge Collaboration District. Throughout the year, McCownGordon employs student interns who they are paired with company mentors and engaged in industry experience. The company also hosts events for students to meet industry professionals and ask questions about industry outlook, culture, best practices and more.
"With a regional office in the Edge Collaboration District, the McCownGordon intern recruitment team has been able to host a variety of student events," said Emily Brown, vice president of talent development with McCownGordon Construction and K-State alumna. "In addition to traditional recruitment events on campus, we have hosted informal 'meet and greets' in our office for students from the construction science program, allowing us to share more about our culture, work environment and employment opportunities in an informal setting."
The KSU Foundation is headquartered in the Edge District and employs students throughout the organization. Whether working with the stewardship, marketing communications, information technology, human resources or investments teams, students bring fresh points of view to the work and gain important professional experience. Paul Chai, senior director of investments, directs two student assistants, Hannah Higgins, a sophomore in business administration, and Jacob Wick, a senior in professional strategic selling and finance.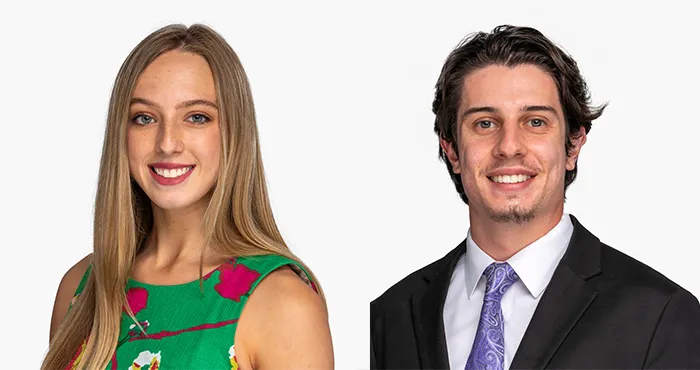 "On top of their work contributions, our students bring a thirst for knowledge to our team," Chai said. "We are never short of work here at the investments team, and our students do real work that contributes to the team's overall success. Having students who are not afraid to ask questions and challenge the status quo helps our team stay refreshed and continuously get better."
As for Higgins and Wick, they acquire skilled experience that is difficult to replicate in a classroom. KSU Foundation's investment student assistants help analyze "the performance of each fund that the endowment is invested in, update statistics for the endowment in Bloomberg (financial market data and news resource) and write analysis pieces for specific liquid funds that we have been assigned, as well as a market commentary to share with the team," Higgins said.
Skills practiced in a professional environment set students apart in the classroom and as they apply for new roles post-graduation. "Working for an endowment is such a rare opportunity in the finance world," Wick said. "Being able to complete financial processes through real-life investment responsibilities has been invaluable to my development and has provided me with an advantage, which will help me excel in my future career."
Developing research and teaching collaborations
K-State is consistently ranked among the top 10 of several prominent Princeton Review rankings including great career services, being among the best-run schools and one of the best universities in the Midwest. K-State has been described as "The Silicon Valley for biodefense" by former Senate majority leader, Tom Daschle, and boasts the most Feed the Future Innovation Labs awarded and funded by the U.S. Agency for International Development at a university — four.
Last fall, K-State unveiled the Economic Prosperity Plan, a strategic initiative rooted in research to add thousands of jobs and billions of dollars to the Kansas economy. This plan to help stimulate the state's economy focuses on K-State's research and innovation strengths in four key areas: food and agriculture systems innovation, digital agriculture and advanced analytics, biosecurity and biodefense, and extension and outreach. K-Staters are driven by their land-grant mission, "to foster excellent teaching, research, and service that develop a highly skilled and educated citizenry necessary to advancing the well-being of Kansas, the nation, and the international community." You can read the university's mission statement on K-State's website here, k-state.edu/about/mission.
Fueled by the land-grant mission, the Edge Collaboration District provides a strategically located environment where academic researchers collaborate with industry leaders and rising entrepreneurs to meet real and emerging needs in Kansas and beyond.
The greater the quality and quantity of working relationships among the university and industry, the better able K-State will be to recruit and retain top research and faculty talent who will inspire the next generation of researchers and industry leaders. This relationship-building adds more innovative people tackling issues of the day and serves to further develop the talent pipeline of research experts into K-State and among K-State graduates. These graduates become the state's and nation's future leaders, bringing K-State values and work ethic into industry, communities and agencies that help Kansas prosper.
Preparing next-gen industry leaders
K-State students have long fostered their reputation as responsible and resourceful learners. The pandemic has been a master's class in resilience and navigating unknowns — skills required to confidently enter business and research environments. Working relationships built among companies, their interns and student colleagues, strengthen both the students and the organizations who employ them today and tomorrow.
Companies are able to "pre-train" future colleagues in processes, expectations and organizational culture while benefiting from the latest knowledge gained in the classroom. And companies that co-locate to the Edge District add proximity to campus as a benefit when recruiting the brightest students to intern or work throughout the year.
"Several K-State summer interns have stayed on with McCownGordon during the school year, working from our office in the Edge District," McCownGordon's Brown said. "These extended internships give students a more in-depth industry experience, and the close proximity to campus allows them to manage their classes and student life while working part-time with McCownGordon."
The Edge Collaboration District at K-State is where diverse industry, university research, early-career and research talent come together to create meaningful outcomes for K-State, Kansas and beyond.
Learn how you can sharpen your organization's competitive edge at K-State. Contact Sherilyn McRell, real estate operations manager for the KSU Foundation at 785-775-2009 and sherilynm@ksufoundation.org.