The investment team manages the assets held on behalf of Kansas State University and its affiliates.
Long-term investment pool
$931.6M
The KSU Foundation manages K-State's long-term investment pool, valued at $931.6M.
Distributed to campus
$24M
In fiscal year 2021, endowed funds distributed over $24M to campus.
Annual fiscal year returns
35.67%
The KSU Foundation saw a 35.67% return earned on investments in fiscal year 2021.
What we do
The investment management process is governed by the Asset Management Committee, a standing committee of the KSU Foundation Board of Directors, which is the policy-making and fiduciary arm of the KSU Foundation Trustees. In collaboration with staff and consultants, the Asset Management Committee implements policies that review:
Investment strategies
Investment manager sourcing and monitoring
Portfolio rebalancing
Everyone involved in the governance, research and due diligence of our investment process is keenly aware of the needs of Kansas State University. The decisions we make today will influence future earnings and help advance the university's goals of attracting and keeping highly qualified professors, recruiting and graduating excellent students, and providing resources that champion competitive university research.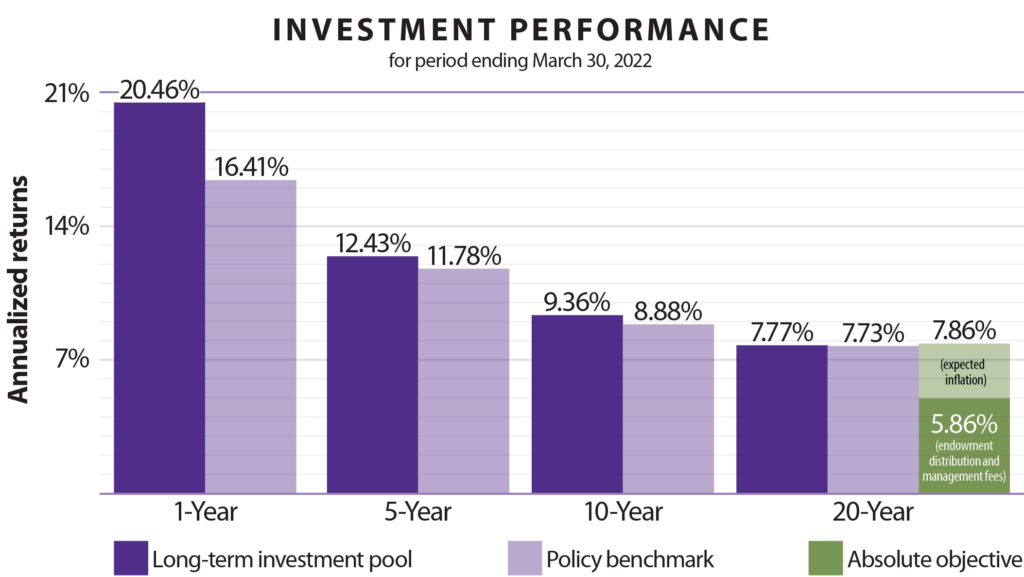 Our performance has ranked in the top quartile among 800+ college/university endowments and foundations.
Learn how separate funds are commingled and invested in a pooled investment fund.
Contact the investments team