K-State students' winning idea casts insects as the heroes in tackling two big global issues – pollution and food security.
What a winning makeover! Pesky insects — the house cricket, mealworms and flies — are becoming heroes. These unpopular insects are now key fighters of pollution and food insecurity, thanks to the visionary thinking of K-State students.
Combining her love of the environment and enthusiastic fascination with insects as food, K-State master's student Mollie Toth of Blue Springs, Missouri, sparked the idea that would lead K-State's entomology team to a national championship.
"Insects are high in protein. They have chitin, which is similar to fiber, so that helps with digestion. They are low in saturated fats and high in unsaturated fats," Toth said. "They are an overall good source for your macro- and micro-nutrient needs."

They also eat all types of waste, including plastic.
Visionary thinking
In 2022, Wilbur-Ellis, one of the world's largest family-owned agribusinesses, launched an innovation challenge for its 100th anniversary. The big idea? How to feed the world's growing population.
Out of 30 teams nationwide, K-State won with this striking idea: introduce symbiotic plastic-deteriorating gut bacteria into insects that consume plastic waste — and use the bugs later as livestock feed. Also, their manure, called frass, can be used as fertilizer.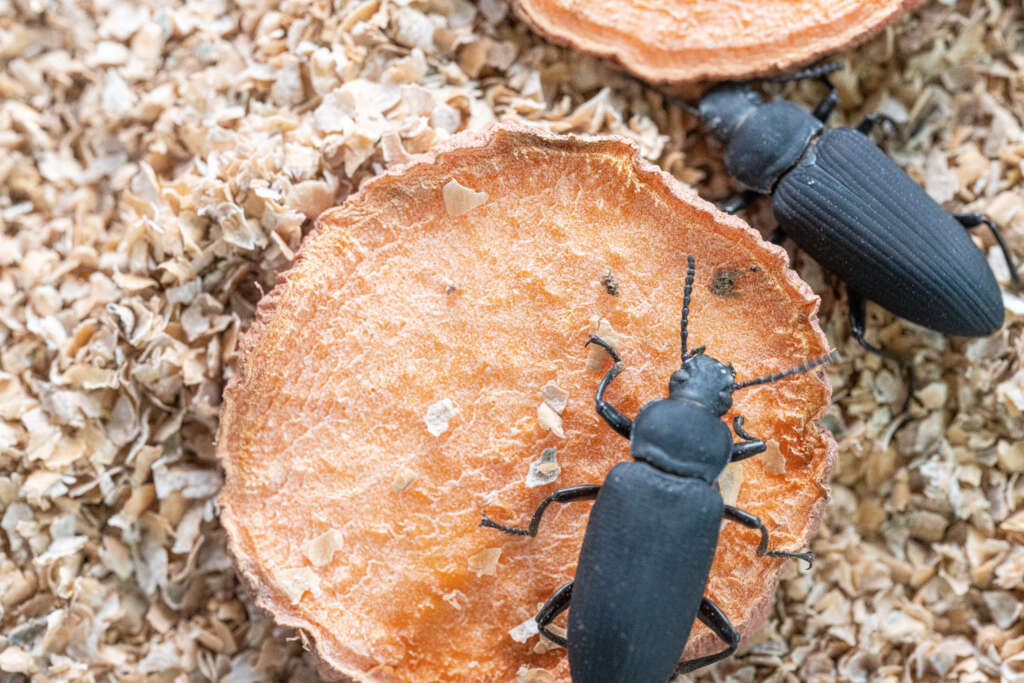 "Using insects in feed is a lot more environmentally friendly because they are so efficient at converting resources into food. They use less water and less feed to produce their biomass," explained Brandon Hall, a doctoral student from Crete, Nebraska. "Insects have a well-rounded nutritional profile and are starting to be used more in animal feed to replace other high protein sources like fish meal or soybean meal."
The team's idea isn't limited to industrial use only. It could start at home.
"You could scale this idea from your backyard compost all the way up to industrial facilities that can degrade plastics for whole cities," explained Cameron Osborne, doctoral student from Fresno, California.
Working together
Undergraduate and graduate students from all over the country, from different backgrounds and from multiple specialties made up the winning team.
Jacqueline Maille, doctoral student from Lum, Michigan, believes this diversity made their team stronger.
"It allowed us to open our minds to different perspectives," she said.
The team was comprised of students from their freshman year up to their final year of doctoral studies. While the more experienced students had the technical knowledge, the undergraduates contributed enthusiastic ideas and a perspective that hadn't been dampened by the rigor of academia.
And the competition will provide benefits beyond the prize money that most team members used for tuition and research travel.
"This experience pushes us to be more competitive in job applications and for grants," Maille said. "It gives us an edge above other students we may be competing with for the same opportunities."
For the greater good
K-State's entomology team took something that is often bad — insects — and found a way to use them for good — for the planet and for their futures.
"Usually, we entomologists are trying to address challenges on how insects are affecting the world negatively — eating crops and spreading disease," Osborne said. "But we enjoyed finding a way insects can help address the grand challenges of pollution, food insecurity and the environmental impacts of some food production."
To support K-State's nationally ranked Department of Entomology, give here. (Entomology D24300)