Horse and Livestock Competition Arena

Kansas State University College of Agriculture has outgrown its horse and livestock facilities. Due to an increase in animal science programs and activities, there is a demand for larger, more up-to-date facilities to house the growing interest in animal science, and horse and livestock competitions.

This project includes a new multispecies competition arena and modernization of the K-State Horse Unit to support teaching and youth and extension efforts in equine and livestock sciences. The new competition arena, combined with the surrounding facilities, will create a hub for animal sciences at K-State. It will also serve as a destination for current and future students, Kansas stakeholders, and the regional and national livestock industry. These facilities will aid in student recruitment and will boost economic development for Manhattan and the region.

The new competition arena will:
Enhance K-State's animal sciences academic programs, preparing students for work in the livestock industry
Improve campuswide recruitment of future students through the support of youth activities (4-H, FFA, horse and livestock shows)
Provide a venue for horse and livestock outreach and extension programs and competitions
Ensure a safe and efficient environment for the K-State rodeo club to practice and host the annual Collegiate Rodeo
Features of the new competition arena include:
130 feet × 250 feet arena with bleacher seating for 3,000 people
Stock pens with bucking chutes and roping boxes
Enclosed 80 feet × 80 feet staging area
Covered wash area for horses and cattle, as well as 10 small livestock wash pens
Manager's office, meeting room, restrooms with showers, and a security/first aid room
An open lobby that features concessions and beverage sales
Second-floor VIP area with windows overlooking the arena and staging area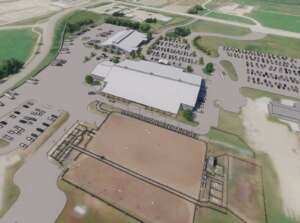 Horse Teaching and Research Unit
Updates to the existing Horse Teaching and Research Unit will result in a modern equine breeding and training facility that is equipped to support the extensive and expanding educational opportunities for undergraduate, graduate and veterinary medicine students at K-State.
In addition to student engagement, the unit serves as the primary facility for equine reproductive services offered by the Department of Animal Sciences and Industry (ASI) and the Veterinary Health Center (VHC), as well as for equine nutrition and physiology research. The unit will also be used by ASI to host equine short courses and seminars for the public.
Renovations to the existing Horse Teaching and Research Unit will:
Support growth in the teaching, research and extension activities of both ASI and VHC
Increase capacity for equine reproductive services
Improve safety and comfort for all users
Modernize the program to reflect marketplace conditions and facilities
Improve animal welfare by providing facilities that meet current Institutional Animal Care and Use Committee (IACUC) requirements
Provide capability for ASI and VHC to increase revenue-making activities through equine science education
Features of the renovated facilities include:
New horse unit headquarters:

Central classroom and lab
Student lounge and manager's office
Mare and stallion breeding areas

New stall barn:

10 indoor stalls
A tack room
Two wash/saddling bays
10 covered stalls attached to the stall barn

New stallion barn
Isolation shelter with a fenced-in pasture
Covered horse walker area
Additional turn-out pens and loafing sheds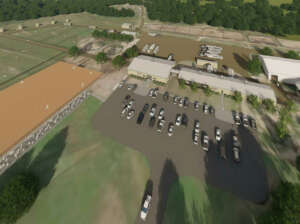 Fund Name: Animal Science Facilities Projects
Fund Number: D50834
---