What does your T-shirt say about you? A K-State Proud shirt — the symbol of our nationally recognized student philanthropy campaign — means you want to lift up fellow students in need.
It's about more than the shirt
It's about students helping students. Led by the K-State Student Foundation, the K-State Proud campaign has raised more than $1.4 million to help 900+ students with hardships stay in school.
Students helping students
How can you not be proud of K-State Proud? Its track record of students helping fellow students covers all kinds of serious situations: unexpected medical issues, your parent losing a job, a car breakdown that means you can't get to class, and more. Organized by the K-State Student Foundation and the Office of Student Financial Assistance, a student allocations committee reviews applications weekly and makes awards year-round.
This premier philanthropy — powered entirely through donations from caring K-Staters — raises funds to rescue students in crisis. Even during COVID, the campaign raised more than $20,000 in a single spring for Student Opportunity Awards.

But what really makes this campaign tick? Every phase is student-led — from hosting donation tables in the K-State Student Union to reviewing applications for K-Staters who need emergency help. Even the annual shirt design comes straight from the heart of our students.
---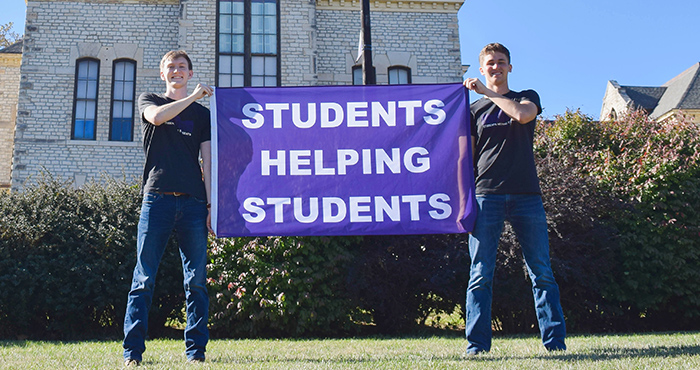 During Proud Week, students raise funds to support the continued education of fellow Wildcats
---
How it works
All donations go to Student Opportunity Awards for students who are struggling financially.
When students donate $20 or more, they receive a K-State Proud T-shirt.
The campaign encourages students to show their K-State pride through philanthropy — and by wearing the K-State Proud shirt all year long.