K-State's Student Access Center strives to make every student soar
On a sunny, crisp Saturday afternoon in fall 2022, Ethan Brown stood at mid-field during halftime of the K-State homecoming football game. He heard his name announced as one of two university ambassadors for the upcoming year.
When Ethan visited K-State as a prospective student three years earlier, he never dreamed that one day he'd represent all students as their ambassador. Ethan could have gone to any university, but one reason he chose K-State was the Student Access Center.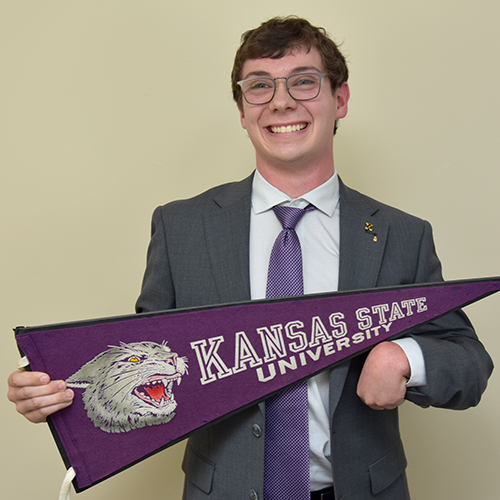 Ethan has cerebral palsy, so ensuring access to all campus buildings is vital to his success as a student. Cerebral Palsy can cause different degrees of muscle weakness and spasticity, causing difficulties in balance, fatigue, and climbing stairs.
"What made me choose K-State was the mentality that when it comes to accessibility, K-State wants to do even better. I was encouraged by that," Ethan shared.
During his first tour as a prospective student, Ethan discovered the Student Access Center. Shortly after he was accepted as a student, Ethan registered at the Student Access Center and has used the services of the office continuously since then. The Student Access Center helped Ethan establish his educational accommodations before his first semester began so he could communicate with his professors about them on the first day of classes.
"Academically, cerebral palsy makes it challenging to access lecture halls, hold books, use required traditional calculators, take notes, and write essays." Ethan disclosed. He even mentioned that with the use of word completion and speech recognition, converting thoughts to written words can be a slow and tedious process at times.
Boldly advancing campus resources
The Student Access Center works with more than 1,000 students with disabilities, ensuring they have the accommodations necessary to be comfortable and successful on campus. By breaking down those access barriers, students are able to shine brighter than ever.
The Student Access Center has an easily accessible website that allows any student that may encounter a barrier at K-State, whether physical, personal, or any other, to report that barrier to the Student Access Center Staff. There is also a phone number that is available both during business hours and for 24-hour assistance. "Staff at the Student Access Center have really helped me." Ethan shared.
A bright future
Although the center already has many incredible resources for those students with disabilities, improvements are still needed. Jason Maseberg-Tomlinson, director of the Student Access Center, explains, "We are always stiving to find new tools that will help students, such as FM systems for students who are hard-of- hearing or technology that will help visually impaired students access classroom content. In the past, we worked with university leadership to find software that makes text documents more accessible (read and write), and we are currently looking at software to assist students with disabilities with notetaking."
Students with disabilities, both permanent and temporary, deserve the same access to a quality education as any other student. To continue helping K-State students, financial assistance is essential to improve facilities and ensure that students in need have access to the proper resources.
To support the Student Access Center, click here or contact Heather Strafuss using the information below.
Photos features in this article were captured by David Mayes '96, K-State Alumni Association.