K-State students take on ag policy through innovative program.
In the fall of 2018, Taylor Nikkel, senior in agricultural economics, hit roadblocks personally and professionally. She knew she wanted to work in agriculture policy, but she felt she needed to experience something new.
So she packed her bags and moved to Washington, D.C. for the spring 2019 semester to represent Kansas State University's College of Agriculture as part of the Kansas Food and Agriculture Policy Fellowship Program.
"Taking the big step and moving away was just what I needed," Nikkel said. "It allowed me to grow and learn in a new setting with people I didn't know, and meet some of our nation's top policymakers."
The fellowship consists of experiences at the state and federal level where students work with a legislative or congressional office, a state or federal agency or a food- and agriculture-related organization. 
"It's important to recognize that there is an opportunity to develop a leadership capacity with our K-State agriculture students for policy programming in their future careers, and that there is a benefit for the Kansas community to have young students from K-State as our resources in D.C. and in Topeka, serving in advocacy roles for agriculture," said Susan Metzger, associate director for agriculture and extension.
Nikkel worked at the Kansas Department of Agriculture for her stateside experience. During her time there, Nikkel helped close and archive cases, drafted demand letters and assisted the legal team in various other ways.
While in D.C., she worked for the U.S. Senate Committee on Agriculture, Nutrition and Forestry as a majority staff intern under Chairman Pat Roberts. For this internship, Nikkel spent a lot of time on Capitol Hill attending hearings and briefings, preparing memos for staffers and researching subjects such as cell-based meat technology.
"I was in the center of where ag policy is formed and got to experience the implementation phase of the 2018 Farm Bill and work under Chairman Roberts" Nikkel said. "It was very exciting to be in D.C. ー I had a great experience."
Mike Torrey, 1986 graduate in agricultural education, principal and founder of Michael Torrey Associates, and founder of the ag fellows program, said he created the program because he had seen other universities host internship programs in D.C. and he thought K-State would benefit due to its land-grant status and the importance agriculture has on the economy.
"Public policy has a role in all of our lives at the local, state and federal level," Torrey said. "I think no matter what you decide to do with your career and life, having an understanding of that, and having a hands-on experience with the role of government and what happens in public policy will make you stronger in your career. It's an experience that's unique and different that students can benefit from."
In addition to Torrey, Jackie McClaskey, '93, former Kansas secretary of agriculture, and Mary Soukup, '07, managing director at the Beef Alliance, helped with the initial discussion and development of the ag fellows program at the state level.
Since its inception, the ag fellows program has had many organizations apply and host students as interns on both the state and federal side, including the Kansas Farm Bureau, Kansas Livestock Association, Kansas Corn Growers Association, national associations and various ag-related lobbying firms.
Sarah Niederee, 2019 graduate in agricultural economics and former ag fellow, worked with the Kansas Department of Agriculture and Michael Torrey Associates during her time as an ag fellow.
"My biggest take away from both my state and federal experiences were the relationships that I built throughout Kansas and in D.C.," Niederee said. "The world is a lot smaller than you think. I have been able to lean on these relationships for everything from receiving industry scholarships, letters of recommendation and even job offers."
While many of the internships students receive are paid, the cost of living in D.C. is much higher than in Kansas. To help offset this financial burden, the ag fellows program provides students with a stipend to help pay for housing.
"We are able to offer a stipend through the philanthropy of the donors to our program," Metzger said. "Money goes faster in D.C., so our hope is that we can really grow to a level where fellows can go and not worry about their housing and instead focus on their job as much as possible."
Jackie Newland, 2018 graduate in agricultural communications and journalism, and former ag fellow said both her internships with Devine, Donley & Murray Governmental Affairs and working with Senator Jerry Moran were paid, which was critical for Newland to participate.
"Opportunities like this are a huge step in the right direction and it wouldn't work without support from those who can give, financially or otherwise," Newland said. "This program impacted not only my time at K-State, but my future career in agricultural policy."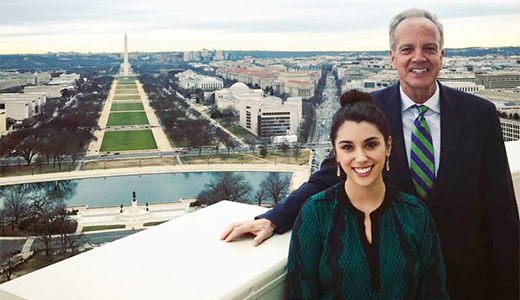 To support K-State's Ag fellows, contact Kerry Wefald at kerryw@ksufoundation.org or 785-775-2090, or give online.