Anita K. Laurent's estate gift has supported hundreds of students for nearly 50 years.
Anita K. Laurent's charming face in a famous painting is memorable, but her scholarship trust has an even longer-lasting legacy.
Born in Buenos Aires, Argentina, to a French family, Anita K. Laurent could never have guessed what an impact she would have on the lives of K-State students.
Upon her death in 1973, Anita left part of her estate in a trust for scholarships to the home economics department at Kansas State University (currently the College of Health and Human Sciences). Starting in the fall of 1974, the trust began awarding scholarships to students. During the 2021-2022 academic year, 10 students were each awarded $1,000, adding to the hundreds of students who have benefitted from the Laurent scholarship.
"College is expensive, and every little bit helps," said 2021-2022 scholarship recipient Julia Gudenkauf. "The Laurent scholarship made a way for me to get good grades by allowing me the freedom to study rather than stressing about money."
Another scholarship recipient, Andrew Peters, said, "I would recommend students apply for every scholarship available to them, and I am thankful for having the ability to study more and focus on my degree."
The Laurent legacy
Anita donated her gifts in honor of her late aunt, Clarisse M. Laurent, whom she lived with when coming to Topeka, Kansas, in 1903. Clarisse was an exceptional artist and was well-known in Topeka during her time. One of her classic pieces is "Girl in Blue," a portrait of Anita (as seen below). It permanently resides in the governor's mansion in Topeka.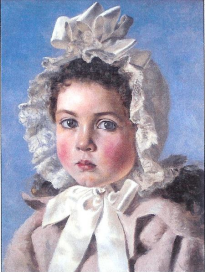 The outspoken Laurent spent a considerable sum of her life studying and teaching about the applied science of improving everyday life—from nutrition to finances to family dynamics.
Loreen McMillan, a member of the Topeka Association of Family and Consumer Sciences, spoke about the difference Anita made for the students at K-State.
"Anita and her family have left quite a legacy, which is alive and well today," she said. "Hundreds of students have benefitted from the award since Anita died."
Shawna Jordan, assistant dean for student success in the College of Health and Human Sciences, appreciates how Anita's gift helps generations of students.

"The legacy of Anita's passion for education and providing opportunities continues today," she said. "For many students, it has helped ease the financial burden of their education."
With a scholarship that keeps giving, Anita's passion for encouraging young minds — like her image in the famous painting – won't fade from memory.
Written by Lilly Majors
To learn more about the College of Health and Human Sciences, go to: https://www.hhs.k-state.edu/.